I like Apple's Safari, both when using my Mac running OS X and when using my PC running Windows XP.  I simply think it is the best browser out there.  However, I also like to have ads blocked, and Safari does not come with a built in ad blocker.  For that you have to download some freely available tools to add to Safari. For the Mac, Tiger has SafariBlock, and Leopard has Safari AdBlock.  But what if you want ads blocked when running Safari on your PC?  The solution is Ad-Subtract.  Its a CSS file which filters out ads for you.  It will work on any WebKit based browser such as Safari, and it is easy to install:
After you have downloaded it, extract it & then open up your Safari Preferences.  In the Style-Sheet drop-down under the Advanced tab, choose the AdSubtract.css file like this: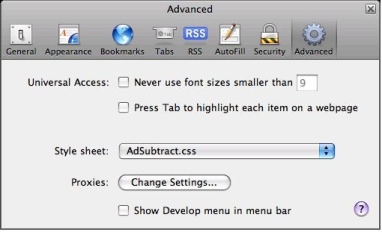 Thats it. Happy browsing!
Update: Since Snow Leopard came out Safari defaults to 64-bit mode. It isn't possible to run AdBlock in 64-bit mode, so what can you do? Turns out that the AdSubtract project is being taken over by GlimmerBlocker. If you want to block ads in Safari 64, then use GlimmerBlocker.
Unfortunately it looks like this is an OSX only solution, so if you want to block ads in Safari for Windows – as far as I know – you're still stuck with AdSubtract.