YouTube contains a wealth of music.  The problem is that its in the form of Flash video.   What is needed is the ability to download the Flash video, and then extract the music from the video into a format that most music players can understand.  The easiest solution is to use the YouTube to MP3 Converter utility by MediaHuman.  Its absolutely free, and you can download it HERE.  It comes in both Windows and Mac OSX flavors,  and its very easy to use.  After you have it downloaded and installed be sure to set up your desired preferences first.  You can choose the format you want the music to be saved in, and where you want it to be saved.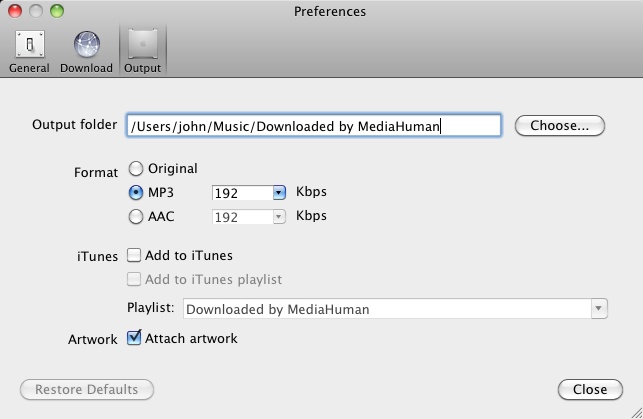 When you have found music that you wish to save, simply drag and drop the URL from your browser's address bar to the application window.  Then click the big "Start" button.  Your music will be downloaded into the folder in the format you had previously specified in your application preferences.  How could it be any easier than that?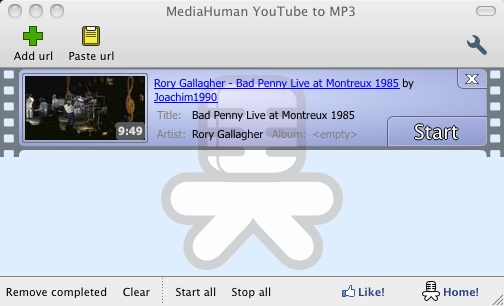 Another solution is MacX Video Convertor Pro by Digiarty Software.  The current version is 3.2.1, and you can download it: HERE.  It is shareware, and after 15 days it will ask that you purchase it.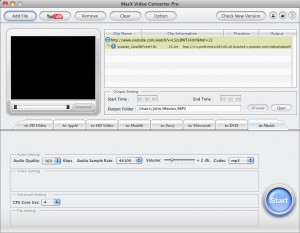 This is how it works.  Using your browser go to the YouTube video that you're interested in.  Go to the address bar in your browser and highlight and copy the URL (command-a then command-c).  To make sure you get the highest quality possible, be sure to append "&fmt=22" to the end of the URL first before copying it.  For example, http://www.youtube.com/watch?v=LSzsDWTc4mY* becomes http://www.youtube.com/watch?v=LSzsDWTc4mY&fmt=22*.  Next in MacX Video Convertor Pro, click on the YouTube button at the top, and your URL will be automatically pasted into the download URL.  Next choose the "Music" tab, choose the sound quality, and then click the large blue "Start" button.  Thats it.  The video will be downloaded and converted to an MP3 all in one step!